ISO/TS 22163:2017 certification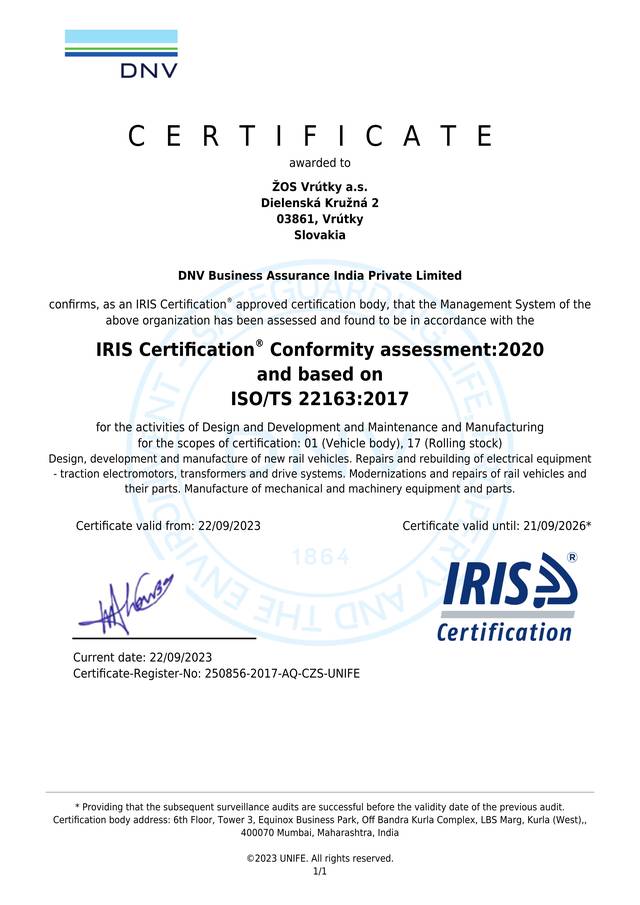 ŽOS Vrútky a.s. as the first company in the Slovak Republic ever obtained IRIS certificate in October 2008 in two out of its scopes:
in the scope no. 18 - Rail vehicles ( Rolling stock ) as the fourth company worldwide,
in the scope no. 1 - Car body as the eighth company worldwide (www.iris-rail.org).
New worldwide recognized international standard for railway industry IRIS ( International Railway Industry Standard – hereinafter referred to as only IRIS ) was introduced by UNIFE working group in 2006.
An aim of introduction of this standard was an increasing of international competition by fact that it will be enabled to reach the worldwide recognized quality level for each supplier of railway components. This global quality standard with the name of which is ŽOS Vrútky a.s. connected brings benefit regardless of his position in the supply chain. High level of supply management and higher efficiency of business processes represent the cost reduction through whole supply chain.
ŽOS Vrútky a.s. successfully fulfilled the conditions specified by IRIS standard to worldwide system of business management for railway industry by certification of its processes shortly after its issue.
The company appends further – prestigious certificate of IRIS standard to previous certificates according to European standards ISO 9001 and ISO 14001.
The certification was carried out by renowned international company Det Norske Veritas (DNV).